South Oak Dodge High Performance Center
When it comes to muscle cars, no other manufacturer has a more legendary history than Dodge. During the 1960's and 1970's, our cars were tearing up the track and street with both power and iconic style.  Today, Dodge has built on our storied past and created a line of 21st Century high-performance vehicles that are nothing short of mind blowing.
If you're looking for the best Dodge dealer in the Chicagoland area for muscle cars, South Oak Dodge is the place to go. Our friendly team of highly knowledgeable and experienced professionals have received special training on the full Dodge lineup of high-performance vehicles and can help you find the perfect vehicle that will get your blood pumping!
Let's take a look at some of Dodge's most popular muscle car models.
Dodge Power Brokers in Matteson, IL
Dodge is introducing Power Brokers, a network of elite dealerships equipped with staff trained to deliver a performance-focused customer service experience.
Certified Dodge Power Brokers dealership sales, service and parts department staff will meet high standards of comprehensive knowledge and expertise in areas including Dodge vehicle features, high-performance parts and installation, as well as motorsports programs. Only dealerships with a proven track record of delivering an elevated level of customer service are eligible for Dodge Power Brokers certification.
"Every Dodge dealer in the country will continue to provide an outstanding sales and service experience," said Kuniskis. "But Dodge Power Brokers dealers will offer everything an enthusiast needs to reach the next level of performance."
Sales personnel at Dodge Power Brokers dealerships will have the knowledge to walk customers through Dodge vehicle performance features and available performance upgrades. Customers will also be able to purchase a vehicle with upgrades directly from a Dodge Power Brokers dealership, with the added benefit of maintaining the balance of the factory vehicle warranty when parts are installed by a Dodge Power Brokers dealer.
Dodge Power Brokers dealers will also host performance clinics for enthusiasts and feature a full lineup of Dodge performance models available for customer test drives.
The Dodge Power Broker program will begin to roll out Dec. 15, 2021.
Click Here for More Info on Power Brokers

Direct Connection Performance Parts in Chicago
Performance has a new name at Dodge.
Dodge announced today the return of the Direct Connection performance parts brand as the exclusive source of the brand's factory-backed performance parts and straight-from-the-manufacturer technical information.
Dodge Power Brokers will serve as the exclusive source for all new Direct Connection performance parts.
"Dodge is a pure performance brand, and the reintroduction of Direct Connection will empower members of the brotherhood looking for increased performance without violating emission requirements or the factory warranty," said Kuniskis. "We're doubling down on our commitment to Direct Connection by pairing it with our new Dodge Power Brokers program, so when customers want to unlock the true horsepower potential of their Dodge muscle car, they can connect with a network of dealerships as their trusted resource."
Direct Connection will launch with a full line of factory-tuned parts, including exclusive new Direct Connection "Tuner" and "Stage" kits that will allow Dodge owners to install factory-tuned, 50-state-legal stage kit calibrations. The Direct Connection Stage II kit can unlock nearly 100 additional horsepower, while a Stage III kit is under development to unlock even more.
All-new Direct Connection modern performance kits will be available to upgrade the engine, suspension and driveline of the current-era Dodge Challenger while maintaining vehicle factory warranty when installed by a Dodge Power Brokers dealer.
In the competition arena, Direct Connection will deliver race-ready parts for the Dodge Challenger Mopar Drag Pak, including engines, transmissions and a body-in-white (BIW) that will allow racers to build their own Drag Pak.
Direct Connection resources for muscle car enthusiasts and racers will include a performance parts website, technical information telephone hotline and parts catalog.
Direct Connection was first launched in 1974 as the exclusive source for performance parts and technical information, straight from the manufacturer. As an industry first, Direct Connection changed the game with a massive portfolio of ready-to-run performance parts sold through the dealer network with how-to performance-upgrade guides known as performance recipes. The Direct Connection hotline, catalog and more armed racers and enthusiasts with the information they desired. Whatever the performance need – street, track or strip – Direct Connection provided the parts and knowledge.
Dodge will carry on that performance legacy by supplying a new generation of muscle-car enthusiasts looking for "ready to run" parts with a one-stop shop for factory-backed high-performance parts and technical expertise, straight from the factory.
Dodge Direct Connection performance parts and content will roll out Dec. 15, 2021.
Click Here for More Info on Power Brokers
Challenger R/T Scat Pack in Chicago
There are few cars as legendary as the Dodge Challenger. Taking inspiration from its original iconic design, the latest Challengers are by far the most powerful and advanced vehicles to have ever worn the nameplate.
The Challenger R/T Scat Pack is a true cut above when it comes to performance. Its power, incredible style and premium upgrades are impossible to beat.
392 Cubic Inch Hemi V8 with 485 Horsepower
475 lb-ft of Torque
Launch Assist & Launch Control
Various Driving Modes
High-performance Suspension
4-Piston Brembo Brakes
20" Standard Wheels
Optional Wide Body Package
The Challenger is also available in other trim packages, including R/T, SRT Hellcat, SRT Hellcat Wide Body, SRT Hellcat Redeye and SRT Super Stock.

Durango SRT Hellcat in Chicago
One of the most powerful and fastest SUV's in the world, the Dodge Durango SRT Hellcat has taken the world by storm. This latest model will take on a quarter mile in 11.5 seconds, making it even faster than SUV's costing an additional $50,000 or more.
6.2 Liter V-8
710 Horsepower
645 lb-ft of Torque
All Wheel Drive
8 Speed Automatic Transmission
0-60 MPH in 3.6 Seconds
8,700 Towing Capacity
Choose other trim levels for your Durango, including R/T and SRT.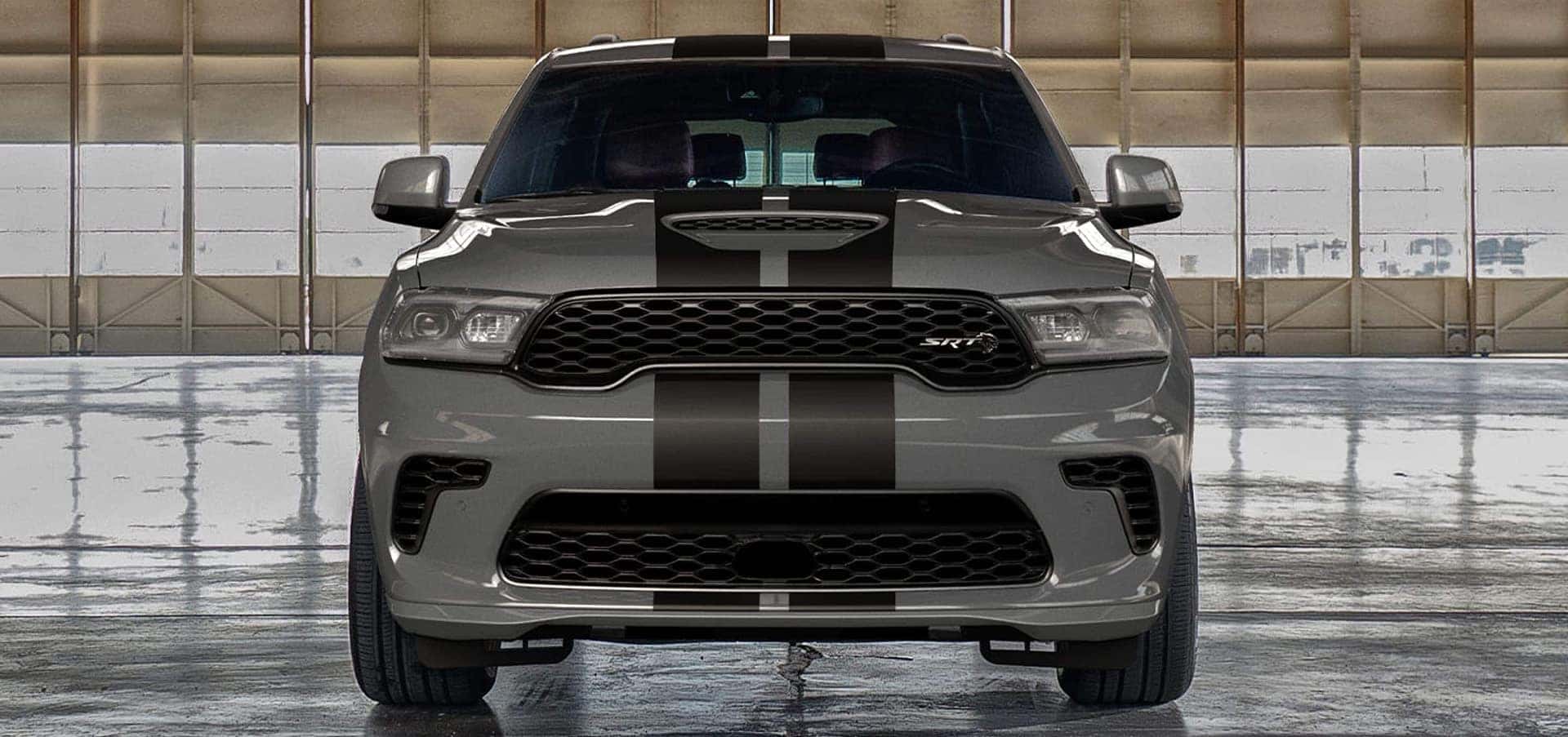 Charger R/T Scat Pack in Chicago
Don't let the Charger's four doors fool you. This fire breathing muscle car is wicked powerful and a true performer in every sense of the word.
4 Liter V8
485 Horsepower
475 lb-ft of Torque
0-60 in 4.5 Seconds
Quarter Mile in 12.4 Seconds
High-performance Suspension
Top Speed 185 MPH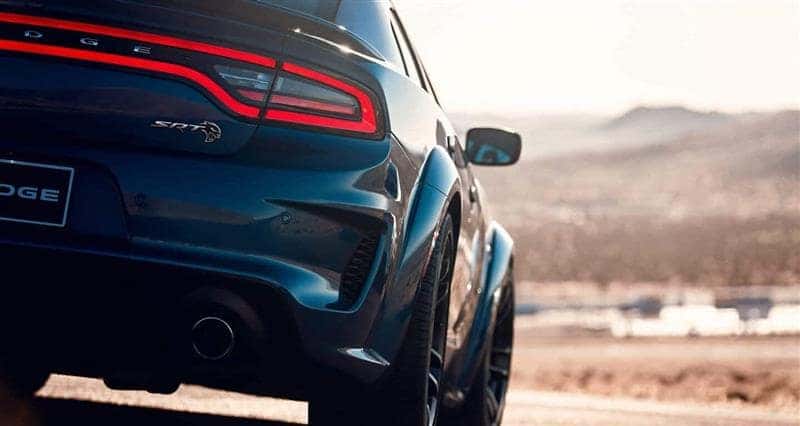 Let us help you find the Dodge Charger that perfectly fits your personality. Choose among other trim packages, including R/T, Scat Pack Wide Body, SRT Hellcat Wide Body and SRT Hellcat Redeye Wide Body.
Dodge Performance Center
Contact Us Today
No matter which vehicle in the exciting Dodge performance lineup excites you the most, you can count on South Oak Dodge to have the knowledge to help you make the right decision. If you are in the market for the latest generation of Dodge muscle cars and looking for the premier dealer in the area, stop by and see us today.